Special-needs education & Healthcare: AskNAO Tablet for Autism
Learning companion for children with autism
AskNAO Tablet for autism is a complete solution to assist educators in supporting children with autism troubles. The solution includes NAO robot with a set of educational and playful applications written specifically for the needs of children with autism.
NAO has demonstrated qualities adapted to the special-needs education context : NAO is captivating, predictable, tireless and multi-interactive.
NAO is a technologic humanoid interface that naturally attracts children. It helps to create communication bridges between the child and his entourage. It is easy to decrypt, helps to reduce children's anxiety and minimizes the overstimulation risks.
NAO constantly encourages the child and repeat instructions. Thus, he feels confident and continues his efforts.
Whether through touch, voice or sight, NAO also offers many possibilities of interactions.
Even without  computer and robotic knowledge, this environment allows you to take control of the robot easily and at any time.
AskNAO Tablet for autism allows to customize sessions according to each child profile. These educational applications are directly inspired by proven approaches and behavioral models. They are customizable and you can select and personalize activities according to each child's learning objectives, motivation and personality.
These applications cover a range of complementary and varied skills : interpersonal communication, everyday activities knowledge, emotions recognition …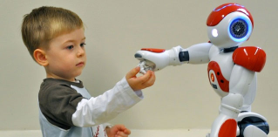 Development of skills targeted for children with autism from 3 to 5 years-old :
Imitation
Sound orientation
Look
Comprehension
ERM develops specific contents on autism in the French experimental research program called NaotismIA.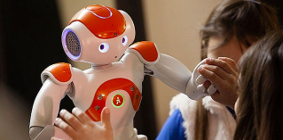 Some activities doable for children with autism :
« Point out objects on the ground »
« Question / object selection in a closed list (tablet, oral) »
« Body schema, point out  body parts »
« Visual stimulation with card games »
« Social ability and greetings »